Filed Under: Payment Cards, Payments
Wow. One of my very favourite companies has always been Worldpay. They have a very special place in my heart because many years ago, when they were first starting out, I was sent up to Cambridge by a client to go and meet them and assess what they were doing. As a junior deputy assistant under-consultant, I went to take a look at the technology they had put together to see whether it worked as advertised. Which it did. I returned to our client and told them that the Worldpay had no future, because all they'd done was to plug a PC into the Internet on one side and to a NatWest Streamline acquiring service on the other side. This seemed like a fairly trivial integration to me so my assessment was that all the banks would do it and that WorldPay would not be able to sustain a margin. Last week, Worldpay agreed to a possible offer from Vantiv that would value the combined group at more than NINE BILLION QUID, proving conclusively that you shouldn't listen to me about anything. Anything at all. Still, it was a useful lesson in banking strategy for me in those long ago days: just because all of the banks could have connected their acquiring services to the internet in about a day didn't mean that they would, and when they did it didn't mean they'd make a success of it. Worldpay have done that in spades.
Driven by the inexorable shift from cheques and cash to cards and digital payments, Worldpay's revenues have risen over 50 per cent and its operating profits have more than trebled since it was sold for £2.5bn by Royal Bank of Scotland seven years ago. 
I remember visiting Vantiv in Cincinnati around twenty years ago when they were still Fifth Third Processing, the second biggest acquirer in the US (I can't remember why I was there but it may have been something to do with smart cards). The combined group will be the biggest merchant acquirer in the world and will give Vantiv access to Worldpay's global markets and e-commerce business, which is why it makes good business sense.
The deal marks a further step towards the industry's consolidation. Last year, for example, Global Payments, the sixth-biggest American acquirer, bought Heartland, a smaller rival, for $4.3bn in cash and shares. TSYS bought TransFirst for $2.4bn. Vantiv snaffled Moneris USA, the American arm of a Canadian payments-processor, for $425m.
Apart from being one of my favourite companies, Worldpay are also one of Consult Hyperion's favourite clients. While the newspaper reports focused on Worldpay's scope and scale, it is their R&D operation that is the focus of my attention. Worldpay have been making serious investments in the next generation of payment services, looking beyond the current card infrastructure into the future of immediate, invisible and invulnerable payments. Some of you may have seen the Internet of Things (IoT) demonstrator that we helped to build for them last year (we were one of the sponsors of the brilliant WorldPay IoT hackathon) and the virtual reality payments demonstrator that we helped to build for them this year.
In my opinion (and in the opinion of a great many other people as well) however, the most exciting project that we have been chosen to support and the most important new product to come out of their R&D lab for a long time was launched at Money 2020 in Copenhagen last month. It's called My Business Mobile, and it means that merchants can download a POS terminal to the their mobile phones and start accepting contactless payments without any additional equipment. No plugs, no dongles, no fuss.
Nick Telford-Reed, director of technology innovation, at Worldpay comments: "The pilot scheme we're running in London will give cash only businesses the opportunity to catapult themselves into the 21st Century by taking contactless card payments on the go. But this is really only the beginning.
When Nick presented at this year's Tomorrow's Transactions Forum (which WorldPay were kind enough to sponsor again) he painted a pretty compelling picture of the future of retail payments, talking about the "friction free" payment experience of the future. This is a definitely a step in that direction. Every coffee shop and kebab van that wants to take cards but either doesn't want to, or can't, rent and install a traditional point-of-sale terminal can now just use a smart phone. And customers can use the contactless cards in their pockets or the mobile phones in their hands (the phones will accept payments from ApplePay and AndroidPay) to pay quickly and conveniently. They can even use their Apple Watch, as you can see in this video featuring Consult Hyperion's Gary Munro and Worldpay's Kevin Gordon. As contactless payments continue to displace cash from the retail point of sale in the UK (my guess is that contactless transactions are currently about third of all retail transactions and the latest figures show that they account for more than half of all card transactions) this gives WorldPay a solution that can really scale.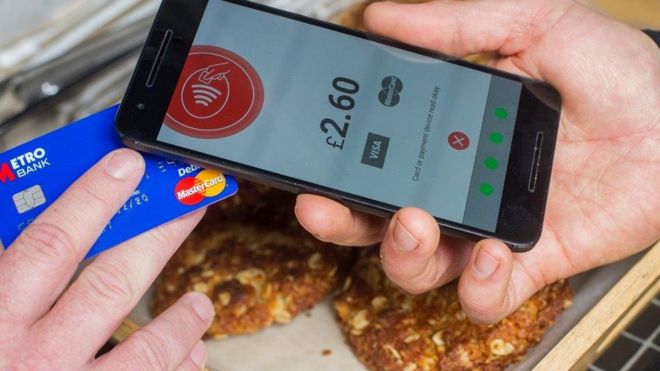 As MasterCard said in their press release about this, making it easier for small and micro businesses to accept digital payments may spur additional growth for them and enable an additional 40 million of these merchants globally over the next four years and will undoubtedly generate significant volume and large numbers of smaller transactions.

So what's so innovative about this? After all, we've been working on mobile contactless applications for years, using phones to read cards for a decade or so (here's my favourite app: a demo of a nightclub ticket that you put your mobile phone number into). But it's a long way from reading a card to having an operational service that complies with scheme rules, has a decent UK, has. It was really intellectually challenging to create a POS terminal running on a user device. Therefore the security architecture is absolutely critical to the success of the product. The guys and gals in Consult Hyperion's Hyperlab have been building, testing (and breaking) secure mobile apps for a very long time. We know all about doing this efficiently and cost-effectively.

One more point. Helping these merchants to move from cash to cards means that they will have data that they never had before. The future, as I wrote after this year's Merchant Payment Ecosystem conference in Berlin, is about replacing the fees from processing with the fees from value-added services. Most observers would agree that these value-added services are real and if the merchant acquirers can transform into Merchant Service Providers (MSPs, as Ron Kalifa, the vice-chairman of Worldpay, called them at MPE), are able to deliver them then there will be a ready market. But these kinds of value-added services based on data analysis and artificial intelligence and machine learning and all that sort of thing are voracious consumers of data, making this above all a scale business. The bigger players with more data at their fingertips ought to be out to deliver services that merchants value and this will be an area of vigorous competition in coming years, a competition that Vantiv/Worldpay look well placed to compete in.

Tags: